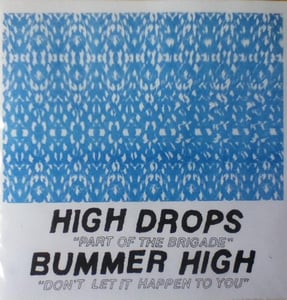 $

5.50 - On Sale
The 3rd installment in the Student Loan split single series is a loud and raw snapshot of Vancouver's best rock'n'roll bands. Snappy garage pop for hip swayers and nay sayers that bridges the gap between the sheen and jangle of The Byrds and the badass scuzz and fuzz of the Velvet Underground. Leather boots & street jive, baby.
A Side is: High Drops "Part Of The Brigade"
B Side is: Bummer High "Don't Let It Happen To You"
Edition of 300 with a stereogram optical illusion cover of a thumbs up by Melanie Coles!